Glygen's MALDI-PEN™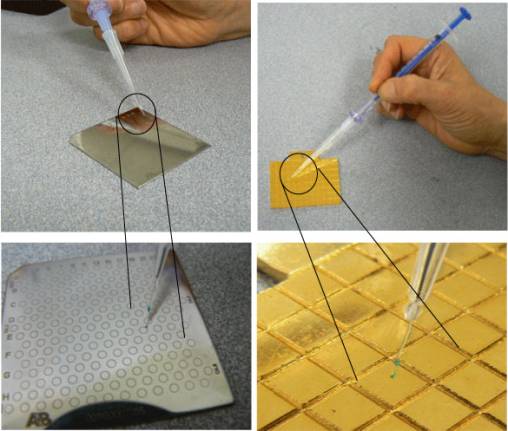 Zirconia & Titania MALDI-PEN™
MALDI-PEN provides a unique method for sample application on the MALDI- target plate. The MALDI-PEN enables a very focused and concentrated spotting on the MALDI target. You can spot or elute as a continuous line so that you can find the concentrated area of peptides.
Ordering Information:
Note: All ZirChrom®, DiamondBond® and Sachtopore® stationary phases are available in MALDI-PEN formats upon request.
MALDI-PEN™ Part Numbers and Pricing:
MALDI-PENTM (1-10 ul)

Pack of 96

Description Part #

Price

Zirconium dioxide GT2ZR0

$395.00

ZrO2+Hypercarb GT2ZROC

$395.00

ZrO2+Poros GT2ZROP

$395.00

ZrO2+Poros+Hypercarb GT2ZROPC

$395.00

Titanium dioxoide GT2TIO

$395.00

TiO2+Hypercarb GT2TIOC

$395.00

TiO2+Poros GT2TIOP

$395.00

TiO2+Poros+Hypercarb GT2TIOPC

$395.00
To place an order or for more information please contact us at 1-866-STABLE-1.
Related Products:
Phosphopeptide Enrichment Using Zirconia and Titania SPE Tips #1 (PDF)
Phosphopeptide Enrichment Using Zirconia and Titania SPE Tips #2 (PDF)
Phosphopeptide Enrichment Using Titania SPE Tips (PDF)
Phosphopeptide Enrichment Using Zirconia SPE Tips (PDF)
Comparison of Titanium Dioxide & Zirconium Dioxide SPE Tips (PDF)
Selectivity of Titanium Dioxide & Zirconium Dioxide SPE Tips (PDF)
Offline Nano-ESI Phosphopeptide Analysis with TiO2 and ZrO2 Wall-Coated Trap'nTips�
Poster Property of New Objective, Inc., reproduced by permission of the copyright holder