Glygen's LC-Fiber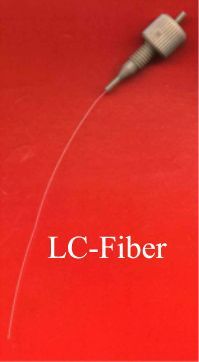 Zirconia & Titania LC-Fiber
LC-Fiber is a revolutionary new (patented) capillary tubing for sample preparation in which the chromatography material is directly attached to the inner surface of the capillary (as low as 50 micron i.d.). This allows the flow of the sample with little resistance. The absence of a filter allows the use of chromatographic media in very small volumes. Thus, this device can be used for very small volumes of samples (nanoliters). LC-Fiber can be used as a Capillary for Solid Phase Extraction (CSPE), for capillary HPLC, capillary electro chromatography (CEC), or as an HPLC sample loop for pre column purification. LC-Fiber consists of a capillary that is made of Polypropylene or FEP and your desired chromatography material. Nothing else!
LC-Fiber Advantages:
Faster sample preparation
Minimal sample loss
No contamination from a filter
Separation of volumes as low as a few nanoliters
Cleaner samples
Fiber length 1-50 cm
Internal Diameter 50-500 microns
Ordering Information:
Note: All ZirChrom®, DiamondBond® and Sachtopore® stationary phases are available in LC-Fiber formats upon request.
LC-Fiber Part Numbers and Pricing:
| | |
| --- | --- |
| Media | 5 cm capillary tubing |
| Zirconium dioxide | LFZRO / $252.00 |
| Titanium dioxide | LFTIO / $252.00 |
To place an order or for more information please contact us at 1-866-STABLE-1.
Related Products:
Phosphopeptide Enrichment Using Zirconia and Titania SPE Tips #1 (PDF)
Phosphopeptide Enrichment Using Zirconia and Titania SPE Tips #2 (PDF)
Phosphopeptide Enrichment Using Titania SPE Tips (PDF)
Phosphopeptide Enrichment Using Zirconia SPE Tips (PDF)
Comparison of Titanium Dioxide & Zirconium Dioxide SPE Tips (PDF)
Selectivity of Titanium Dioxide & Zirconium Dioxide SPE Tips (PDF)
Offline Nano-ESI Phosphopeptide Analysis with TiO2 and ZrO2 Wall-Coated Trap'nTips�
Poster Property of New Objective, Inc., reproduced by permission of the copyright holder